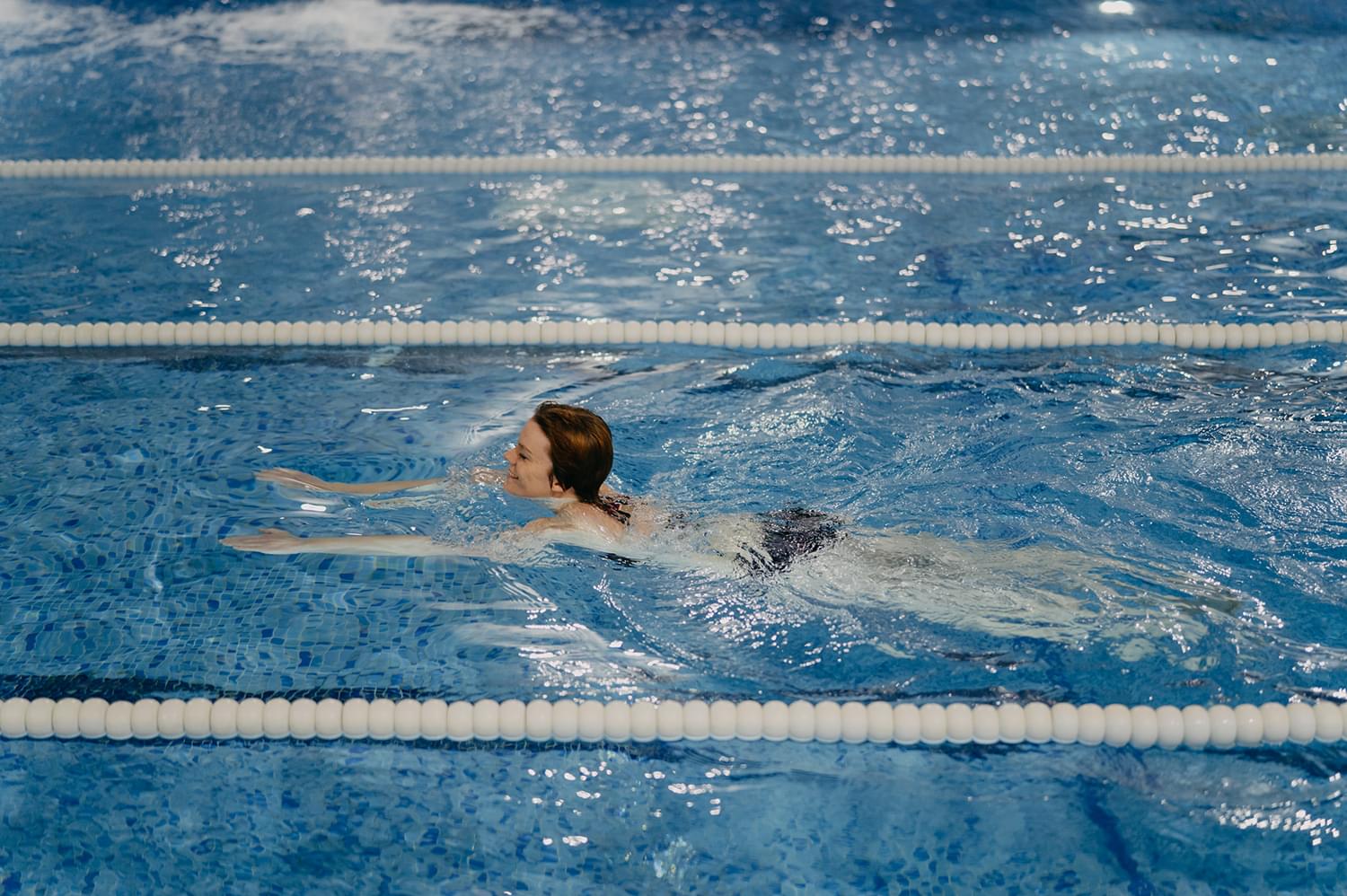 In Water world you can enjoy an indoor swimming pool with gradual entry, relaxation area, an infant pool, a whirlpool, sauna on the water and a steam bath.
The inner swimming pool is 25 metres long and 10 metres wide. You can use the swimming part with gradual entry and the depth of 1.2-1.6 meters, but also a relaxing part of the pool with massage jets and spouts. The swimming pool includes a whirlpool with a temperature of 34 ° C.
Swimming lane schedule for public
| | | |
| --- | --- | --- |
| | days | swim times |
| 1st lane in the pool | Mon–Fri | 19:40–23:00 |
| | Sat–Sun | 7:00–23:00 |
| 2nd lane in the pool | Mon–Fri | 7:00–9:00 |
A swimming pool designed primarily for infants and toddlers with separate water purification technology that meets strict hygiene regulations. The water is treated with a UV lamp, which together with sand filtration ensures clear water free of all impurities.
A warm misty bath that welcomes you in an aromatic steam cabin has positive health effects on the body. Periodically it adds eucalyptus and salt essence, which supports our airways. Cooling showers are available with so-​called tropical rain showers.
Like the sauna, the steam bath induces sweating. Compared to a classic sauna, however, it is not so hot and much more humid. Hot steam is beneficial in cases of respiratory diseases and rheumatic disorders, and is also recommended for the treatment and prevention of asthma, colds, stiff muscles and blood circulation problems. It has a beneficial effect on skin, helps to cleanse pores, treat cellulite or acne.
The new Finnish sauna has a pleasant temperature of 70 ° Celsius and fresh orange essence. This scent gives us joy, harmonizes digestion, relaxes and calms the body and mind. The interior of the sauna offers panoramic views of the pool. The sauna is ideal for families with children who are learning or just started going to sauna.
When staying in the sauna, kindly be covered in sheets or wear your swimsuit.
Please your loved ones, family, business partners or yourself by buying a gift voucher to one of our wellness centers or choose a sauna kilt for a better sauna experience.